The Best Types of Wood for a Woodworking Project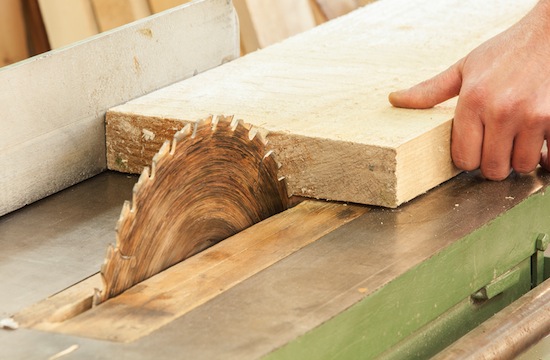 Have you ever been on the Internet or even Pinterest and seen a woodworking project that you wanted to do? Whether it is a piece of furniture or a decorative art piece, you need to know what kind of wood works best for the project that you are doing. Different species of wood have different colors and properties that make it a good choice for different kinds of pieces.
This blog will be covering natural woods, but that does not mean that engineered woods cannot be used for woodworking. Many furniture builders and artists use hardboard and MDF for certain projects because of their flexibility and versatility. However, it is important to understand some of the more popular natural species that are used for woodworking.
Pine
Pine is a variety of softwood that is very easy to work with. It is very easy to carve and drill. Pine usually has a light yellow coloring that can really brighten any interior. After it has been sealed, pinewood is very easy to stain if you want it to be slightly darker. However, many woodworkers simply seal the wood and apply a clear finish.
Cedar
Cedar is another softwood that is very easy to use. It is well known for its warm, red tones and lovely aromatic note. It is also highly resilient to the elements. This makes it an excellent option for outdoor furniture. It is also extremely useful for chests or wardrobes that would be holding clothing that is not used often. The wood itself naturally wards off moths.
Redwood
Redwood is also very resistant to moisture, so it is a great choice for outdoor furniture as well. It is relatively soft and is easy to work with. It has a slight reddish hue. You can use stains and paint on redwood, but it is such a nice color that many woodworkers use a water repellant with mildewcide for outdoor furniture.
Cherry
Cherry is a hardwood that is slightly more difficult to work with. However, it is considered a softer hardwood. It has a warmer reddish tone that can complement a lighter interior.
Maple
Maple has 2 varieties, a harder variety and a softer variety. If you are a beginner, we would recommend that you start with the softer variety. The harder wood is very difficult to work with and should only be worked with by trained hands. Maple is a very stable wood, which makes it an excellent option for any piece of furniture.
We want you to feel comfortable with woodworking and have fun doing it. There is nothing more satisfying than completing a project that you made with your own hands. No matter the project, you will want to ensure that you have the right tools as well. Many woodworkers want to engrave a piece or initial it. If you wish do this, we recommend getting a Dremel for any carving or engraving. Whenever you are doing woodworking, make sure that you are being safe and having a good time!